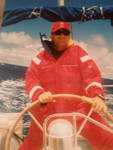 GETTING STARTED
My name is Captain Jeffry Matzdorff, and I have been sailing in Southern California since 1964. My Father was the one that introduced his four kids to sailing with lessons in Marina Del Rey at the old Windjammers Yacht club - I was 10 at the time.  His motivation was to provide a common activity for our family to enjoy together. Guess what... It worked! He bought his first boat, a Cal 25 in 1965 and taught his 4 children to love the beautiful world of sailing.

FIRST BLUE WATER CRUISING EXPERIENCES
After many years enjoying the Cal 25, my Dad bought a Columbia 34 MK II so our growing family could enjoy a bit more room aboard and also sail the Ensenada Race as well as the other local Island races. Of course the more we raced and cruised, the more we wanted a larger boat. That next boat was a Columbia 43, which served our family well and afforded us the possibility of extended cruising and racing with greater range and speed. After 7 years, my father bought his last sailboat, a Cal Cruising 46, ketch rigged.
BAJA CALIFORNIA CRUISING
The Cal 46 enjoyed frequent trips north to the Delta waters above San Francisco and also south to warm Baja and mainland of Mexico. Some of my favorite memories of a very early Cabo San Lucas, well before the inner harbor had been built, and the always anticipated trips north which always led through Turtle Bay. Perhaps my most memorable trip north back to Marina Del Rey involved stopping in Turtle Bay to re fuel. To get fuel in those days, first you called Gordo on Channel 16 and advised how much fuel you needed. Next you had to drop a bow anchor and back down onto the pier where they would throw a monkey fist and a stern line. Once secured, Gordo would use his belly to support the upper part of the drum and hand over hand roll the drum to the end of the pier. On this particular day it was stormy and nerves were tense and all were anxious. Another monkey fist tied to a hose was led to our boat from above and when we finished, our money was put into a pouch, tied to the fuel hose and then hoisted up. By the way, fuel had to be filtered which also slowed the process. In the old days you usually got approximately the amount of fuel you requested +- a gallon or two!!! Waving goodbye to Sr. Gordo and his kids running on the pier with grey skies and 20+kts, was indeed memorable. Today, his sons, Ernesto and Enrique run fuel out to the boats where they will pump you the fuel you need AND they have a reliable counter to ensure proper quantities.
POWER BOAT CRUISING
Currently my father enjoys the comfort of Dulce Vida a DeFever 52 Motor Yacht. I was responsible for overseeing the commissioning and warranty work before we took delivery of the boat. I learned a lot with the commissioning of this boat and my Dad still enjoys moving through the seas at a comfortable 9 knots.
EDUCATION
I attended UC Irvine and was a member of the UCI sailing team from 1972-1974. In 1975 became founding father for the Eta Sigma Chapter of the Sigma Chi Fraternity at UC Irvine and graduated with a degrees in Economics and Computer Science in 1976.

DEGREES AND LICENSES
I am a licensed 100 Ton Master Captain with sailing endorsements.
TWIC - Transportation Workers Identification Card - registered.
CPR, AED and First Aid certified for adults and children.
All Licenses and certifications are kept current
Fluent in Spanish and Pirate Parlay protical
Very Familiar with forign port harbor checking protocals and procedures worldwide
Sailing C/V Captain Jeffry Matzdorff MAY 2020

I have been cruising/racing both sail and power boats since 1965, beginning as a junior member of Windjammers Yacht Club where I served as Jr. Commodore.

After working with my Father, two Sisters and Brother in our family business for 30 years, I decided to
pursue my love of sailing with my complete attention. Long distance cruising and vessel delivery were my
main focus. I currently live aboard my sailboat in Marina Del Rey and am enjoying as much sea time as
possible. My combined long distance cruising/racing experience exceeds 182,000 verifiable international blue
water miles as of May 2020.

I have checked boats in and out of 34 different countries around the world.

I am USCG Licensed 100 Ton Master Captain- STCW 95-TWIC certified-CPR adult/children-First aid certified-Safety at
Sea certified-Sailing endorsement-All certs current. Consider myself a heavy weather specialist. I have 13 Transpacific
crossings including Trans Pac Race in 2011---I have many Mexico races with over 60 deliveries north and south between
Mexico and California---Many dozens of trips from SoCal to San Francisco---Grenada to Ensenada via Curacao and
Panama Canal---Miami to Cascais, Portugal via Bermuda and Azores Islands—Intra Coastal Waterway, Miami to
Annapolis—15 trips up and down the West coast From Anacortes, Seattle and Portland to SoCal and in both directions.
Columbia River Bar crossings--Captain for private vessel from Panama to Eastern Caribbean via Jamaica and
Dominican Republic and throughout the Caribbean and entire East Coast USA from January 2013 through 2015 ---
Caribbean to NYC via Bermuda, New York, Newport RI, Boston, Nantucket, Martha's Vineyard, Charleston.---Los
Angeles to Auckland via Hawaii, Palmyra, Samoa, Tonga and Fiji southbound and Rarotonga and Tahiti northbound ---
2015 Los Angeles to New Zealand via Hawaii and Tonga, 2016 Opua NZ to Marina Del Rey via Fiji and Hawaii.

Current Certifications:
-I am a USCG 100 Ton Master Captain. US License USA 000311772 Ref# 298581
-STCW 95 Compliant
-TWIC certified
-CPR adult and children
-First aid and AED certified
-Safety At Sea certified
-Sailing endorsement
-BOAT U.S. Preferred Pro Captain for BOAT U.S. publication's and website
-Valid US Passport
-Regard myself a heavy weather specialist.
-Non Smoker
-No Tattoos or piercings
-Carry personal live-tracking chart plotter on laptop with complete Garmin Blue Charts
-Carry personal Yellow Brick satellite tracker pings our position to a web link every 20 minutes
-Carry personal Iridium 9505A Satellite Phone
-Carry personal Cat 2 -406 ACR EPIRB
-Carry personal ACR Aqua Link EPIRB
-Carry personal h/h VHF
-Very Fluent Spanish
-I run a dry boat. No alcohol.

All Certifications and Licenses are current.

This resume does not include my 55 years of 'local' cruising/racing since 1965
As a Junior sailor I hold the following :
1970-Jr. National Champion of the Windward Sabots- Westlake, CA
1971-Coronado 15 Jr National Champion- Huntington Lake, CA
1972-1973 U C Irvine Sailing Team. Newport Beach CA
----------------------
Family boating and body of water(s)
1964-68-Active sailing with family boat Cal-25 Local- Catalina-Channel Islands
1968-72-Active sailing with family boat Columbia 34 Mk II- So Cal and Channel Islands
1972-76-Active sailing/racing with family boat- Columbia 43 SoCal and Channel Islands
1977-1992-Active sailing with family boat- Cal 2-46-From San Francisco to Zihuatanejo-Sea of Cortez
1993-1999 Active boating with family motor yacht-Flemming 55- San Francisco to Zihuatanejo- Sea of Cortes
2003-2018- Live aboard my Hunter 410, sailing Southern California and Channel Islands-Mexico
2006-2014- Active boating with family boat-De Fever 52- MDR- to Zihuatanejo- Sea of Cortes-Northern
California-7 months cruising Sea of Cortes/Mainland Mexico

Trip Log:
1971- Mazatlan to San Diego-Columbia 50-Querida II
1972-1974- University of California at Irvine sailing team
1975-LA to Hawaii- Columbia 43-Unicorn
1983-Miami Florida-Bermuda-Azores-Portugal- Gulf Star 50-Unicorn II
1984- LA to San Francisco-Southern Comfort-II Cal 2-46
1986-LA to Cabo- Southern Comfort II Cal 2-46
1988-MDR to Puerto Vallarta-Southern Comfort II-Cal 2-46
1993- Marina Del Rey- Manzanillo and return Flemming 55-SS Victoria
1993-Auckland, New Zealand-Rarotonga, Cook Islands- Bora Bora, Tahiti – Swan 62-Chimera
1994-LA to Puerto Vallarta- Flemming 55- SS Victoria
1996- Puerto Vallarta to MDR-Flemming 55 SS Victoria
2003-Hawaii- Los Angeles- Jeanneau 52-Between The Sheets
2004-Grenada-Curacao-Panama-Los Angeles- J-160-Albacore
2005-Santa Barbara-Hawaii-Palmyra-Samoa-Tonga-Fiji-New Zealand- J-160-La Sirena
2006- Miami-Annapolis – Intracoastal Waterway-Delphine 37
2006- San Diego-Hawaii Jeanneau 43
2004-05-06-07-Newport Beach to Cabo races--Jeanneau 52-Between the Sheets
2003-04-05-06-07-Deliverey from Cabo to Marina Del Rey- Between the Sheets
2007- MDR to Sea of Cortes-Puerto Vallarta and Zihuatanejo- De Fever 52- 5 months-Dulce Vida
2007-Deliver Dulce Vida from Puerto Vallarta to Marina Del Rey
2008- Cabo to Marina Del Rey-Hart Breaker-Beneteau 423
2009- Marina Del Rey to Anacortes, Wa-Wauquiez 43-Pingouin. Trey Parker's boat
2009-Captained Jeanneau 54 -6 day trip US Open Surf Championship-Huntington Beach- Responsible for
Up to 12 guests on board-Old Marblehead
2009-Captained Jeanneau 54 to Santa Cruz Island for surf on back side of Island for 4 days.
2007-2012- J-133 Boat Manager for Rob and Gil Maguire. Tenacity. Both racing and cruising needs
2010-Trailered Dana Seacraft 24 Post Baja Ha Ha-- La Paz to San Francisco
2010-Delivered 45' Aluminum survey vessel- San Francisco to Ventura-Zephyr Marine
2010- Delivered J-109 San Francisco to Marina Del Rey- Crazy Diamond
2010-Delivered Old Marblehead from MDR to Cabo and La Paz May –June for 6 weeks. Stayed aboard to
Take the owner and guests out for cruising as required. Later brought Old Marblehead home.
2010- July-Old Marblehead to Newport Beach for US open surf contest and took guests/customers out for
Daily cruises.
2010-July- Old Marblehead to Catalina with owners daughter and her family for one week.
2010-August-Dulce Vida to Catalina with owner for 2 weeks and CYC cruise rendezvous.
2010-November- Hunter 420 MDR to Santa Barbara
2010-November-Delivered 51' Steel Cutter, 'Paramita' from Newport, Oregon to Marina Del Rey
2010-December- Delivered 46' Beneteau Revere from Channel Islands to MDR
2010-December- Captain 45 Trojan Express- Todo Bien- Newport Beach boat parade.
2011- January- Sailing/Docking/Anchoring and general boat instruction for Hunter 460- Gary Gottesman
2011-January- Delivered Dufour 405 MDR- Sand Diego Boat Show Denison Yachts
2011- January- Delivered Dufour 405- San Diego-MDR after Boat Show Denison Yachts
2011-March- Deliver Santa Cruz 70 , Grand Illusion, from Cabo to Long Beach
2011-April- Delivery Hylas 46, Seasilk, Puerto Vallarta to San Diego-Craig Blasingame
2011-June- Delivering Hobie 33 up from San Diego to Marina Del Rey for July 2nd Race to San Diego
2011-June- Charter Captain for Blue Pacific Boating in Marina Del Rey
2011-July-TransPac Race Jeanneau 52, Between The Sheets Race to Hawaii-TransPac 2011
2011-July/August-Delivery Between The Sheets home from Hawaii to Los Angeles
2011- August/September- Delivering Peregrine, Catalina 38, home from TransPac, Long Beach to Seattle
2011-September-Captained Dulce Vida to Catalina for two weeks with Owners
2011- September- Deliver Dufour 37 to and from Lido Boat show for Dennison Yachts
2011-October- Delivered Dufour 37 Marina Del Rey to Long Beach Show Denison Yachts
2011-October- Dulce Vida, De Fever 52 cruising the Channel Islands.
2011-October- Best Day Ever, Hylas 45, Cabo San Lucas-Baja Ha Ha- John Terry
2011-November- Canary Clipper- Hunter 450 to San Diego for Americas Cup World Series
2011-November –Canary Clipper home to Marina Del Rey
2011-Captain Jeanneau 54 , Old Marblehead with owner for local sailing
2011-November-Polaris, Passport 40, delivery home from Puerto Los Cabos to San Diego-Cito Kirkpatrick
2011-November-Wings- Formosa 51 Ketch- Assist owner with new boat and piloting lessons
2011-December-Old Marblehead to Santa Barbara-Jeanneau 54
2012-January- ASA 104 class to Catalina for 3 days Blue Pacific Boating-Beneteau 40 Lynn Lee
2012-January-Old Marblehead Santa Barbara- Marina Del Rey-Jeanneau 54
2012-January- Blue Pacific Boating Charter, Tartan 37
2012-February –Old Marblehead_Jeanneau 54
2012-March-Sea Trial Doral 45' m/y Tribute- King Harbor
2012-March-Between The Sheets- Jeanneau 52- Newport to Cabo San Lucas Race. First Place
2012-April-Between The Sheets- Jeanneau 52-Delivery Cabo San Lucas to Marina Del Rey,
2012- April-Hunter 27- Marina Del Rey to San Diego Cays
2012-April- m/y Tribute- Doral Alegria 45- King Harbor to Huntington Beach
2012-May-Delivery of Mainship 390 - La Paz to Marina Del Rey.
2012- May-Island Packet 370-Tribute- Portland Oregon to San Diego Ca.
2012-June- Delivery of Swan 431 from Marina Del Rey to Ensenada
2012-August-Delivery of DeFever 52-Dulce Vida- Marina Del Rey to Santa Barbara for 8 days and return
2012-Sept -Delivery of Vagabond 47 Garden Ketch-Marcella's Wings- Coos Bay to Port Townsend
2012-Sept-Delivery Viking 58, Gitana, Anacortes to Ilwaco WA.- Rudy Eisler
2012-October- Formosa 51 Eagle to Catalina with family-First cruise aboard new purchase
2012-October- Delivery- Santa Cruz 40, Quiver-Marina Del Rey to San Francisco- Alameda Ca
2012-October- Old Marblehead –Jeanneau 54 for 10 days local cruising to Channel Islands and San Diego
2012-November Delivery Swan 53 Fifth Season San Francisco to Ensenada
2012-October/January- Jeanneau 37 Ms Knots - Sailing Piloting lessons- Kia Knox
2012-November/December-Delivery Jeanneau 40 from Wilmington to Berkeley -New boat owner
2012-December-Delivery Catalina 34 Long Beach to San Francisco
2012-December-Delivery- 90' Fife Gaff Cutter- S/Y Bloodhound -Puerto Vallarta to Marina Del Rey-Bob
Gilbert
2013-January-Delivery Beneteau 50, Tai Pan II Cabo to Marina Del Rey
2013-January/February-Delivery Swan 53, Fifth Season, Panama to Caribbean St Maarten.
2013-February thru December - Captain Swan 53 Fifth Season Eastern Caribbean and East Coast USA
2013-June-Swan 53 St Maarten to Bermuda and NYC
2013-July/August Delivery-Between The Sheets- home from Hawaii to Marina Del Rey
2013-September Swan 53 Newport Rhode Island and area surrounding. Vineyard/Nantucket
2013-October Swan 53 Fifth Season- Newport RI to Charleston SC
2014-February-Charleston to St Maarten Swan 53 Fifth Season
2014-February thru May- Captain Swan 53 Fifth Season- St Maarten, BVI, St Barth -BOAT SOLD
2014- May/June-Sailing/Piloting lessons- Island Packet 420- Marina Del Rey
2014-May-5 hour Sea Trial-Mckinna 48 Shady Lady. Marina Del Rey
2014-June- Day sail with owner Old Marblehead-Jeanneau 54
2014-June-July-August- Carter 45 Piloting lessons – RX for Fun
2014-July-Greenline 33 Marina Del Rey to Newport Beach-Dennison Yachts
2014-July-Jeanneau 54-Day sail Kite practice
2014-August-Offshore Delivery Hunter 49 Parc Place
2014-August-Delivery MDR to Mission Bay-Sea Ray Sundancer 260
2014-September-California Ta Ta Rally- Santa Barbara to Catalina-Old Marblehead-Jeanneau 54
2014-September-Lido Boat Show- Bayliner 477 Its Magic
2014-September-Lido Boat Show- DeFever 52- Dulce Vida
2014-October-Hunter 41 Achiever- All Channel Islands Charter- 6 days
2014-October-Sea trail and hoist-Bayliner 477- It's Magic
2014-November- Swan 90- Panacea- Palma de Mallorca to Caribbean via Gibraltar and Grand Cannery
2015-January- Beneteau 40-Dreamboat Blaine WA to San Francisco
2015-March- Jeanneau 52.2-Between The Sheets- Cabo to Marina Del Rey
2015- April DeFever 52- Dulce Vida- Channel Islands CA to Anacortes WA
2015-April-Beneteau 35-Saling/Piloting/Boat handling lessons
2015-April- Jeanneau 53 Channel Islands trip
2015-May- Custom built Lincoln Spencer 37' Lobster boat Anacortes WA to San Diego-Robbie Haines vessel
2015-June-Beneteau 473-Marina Del Rey to SFO
2015-July/August-Jeanneau 52.2-Between The Sheets- Hawaii to Marina Del Rey CA
2015-September-November-Jeanneau 53 MDR to Auckland NZ-Stops in Hawaii/Samoa/Tonga/Opua, NZ
2015-December-Jeanneau 53 –Bay of Islands, NZ 10 days cruise with Owner
2016- January- DeFever 52 M/Y Dulce Vida, Sidney BC to Channel Islands Marina, SoCal
2016-March-Jeanneau 53 Lucia E Luca- Bay of Islands cruise
2016-April-Oyster 53, Turks and Caicos to Panama Canal and Transit
2016-May-Benetteau 393-Newport Beach to San Francisco
2016-May-Jeanneau 53- Lucia E Luca- 9 day, NZ- Bay of Islands Cruise
2016-July-September -Jeanneau 53 Lucia E Luca-New Zealand to Los Angeles via Fiji and Hawaii
2016-November-Prestige 550- Seattle to Newport Beach
2017-January-Jeanneau 53 Lucia E Luca-Catalina Island Cruise
2017-March- 48' Dencho custom design Motor Vessel- Sonrissa-Alamitos Bay to SFO
2017-June- Hans Christian 33T-Seattle to Los Angeles
2017-July-Formula 40 M/Y-Ariandne-Maneuvering and navigational lessons.
2017-July/August- Between The Sheets-Jeanneau 52.2-Hawaii to Los Angeles
2017-December-Beneteau 423 Marina Del Rey to Tacoma
2018-February-Sense 50-Cabo to Ensenada
2018-March-Hylas 46- s/v Elise -Barra De Navidad to Ensenada
2018-April-Jeanneau 53-Lucia E Luca Marina Del Rey to La Paz
2018-May 21-29-Jeanneau 53 Lucia e Luca Sea of Cortez cruise with owner
2018-June-Jeanneau 53-Lucia E Luca- La Paz to Marina Del Rey
2018-July-Silverton 352-Marina Del Rey to San Diego
2018-September-Jeanneua 53- Channel Islands Cruise
2018-September-Catalina 42-SFO to Port of Kingston WA.
2018-November – Tayana 48- Costa Rica to La Paz
2019-January-July- Oceanis 38. New owner lessons-Sailing and close quarter maneuvering -
2019-January-Jeanneau 53- Channel Islands cruise with owner and family.
2019-January-July-Oceanis 35, close quarter maneuvering and sailing lessons.
2019-February-Oceanis 38-Navigating/sailing/anchoring, maneuvering lessons.
2019-March-Sabre 38- Alicante-Ventura CA to Long Beach
2019-March-July-Tiara 39-Maneuvering and operation lessons
2019-April-July-Meridian 441-Navigation, anchoring, close quarter maneuvering lessons.
2019-/Apri/May-Jeanneau 54-That's Life-Cabo to San Francisco
2019-July-Santa Cruz 52, Blond Fury-San Diego to Long Beach
2019-July/August-Santa Cruz 52-TransPac Delivery-Hawaii to Long Beach-Triumph
2019-August-Charter to Catalina Island Jeanneau 53
2019-September-Oceanis 38-Maneuvering/sailing lessons,
2019-September-Tiara 390 Coupe Navigation/anchoring lessons
2019-September- Oceanis 35-Sailing lessons
2019-September-Tiara 390-Offhore navigation lessons
2019-September-Meridian 441-Maneuvering lessons.
2019-Septemeber-Jeanneau 53-Family Sunday sailing-
2019-Sepetember-Jeanneau 43-Family Saturday sailing
2019-October-Tiara 390 Coupe-Catalina trip-mooring pick up-navigation
2019-November-Tiara 39-MdR to Avalon, Catalina
2019-November-Jeanneau 53-Catalina Island Cruise
2019-November-Jeanneau 49-San Diego to San Francisco
2019-December-Tiara 39-MDR to Catalina
2020-January-Beneteau Sense 50-Eureka to Pillar Point
2020-February-Beneteau Sense 50 Pillar Point to Ventura
2020-February/March-Jeanneau 53. Marina Del Rey to San Diego
2020-March-Ben 50-Ventura to Marina Del Rey

PLANNED

2020-July-Beneteau Sense 50. Marina Del Rey to Honolulu




2010 - 2012 Charter Captain for Blue Pacific Boating in Marina Del Rey

2010-2012 ASA 104 instructor for Blue Pacific Boating
** Special Note:
I have never been involved in an insurance loss or claim on any boat I have been aboard as Captain
or Crew. I never push the boat as safety for the boat and her crew are always priority one!
****I hold a valid USCG 100 Ton Master Captain's License with 100 Ton sailing endorsement.
STCW 95
TWIC certified
Valid US Passport
First Aid- CPR certified-Adult/Child
Sailing endorsement
Safety At Sea Certified. US Sailing
Accepted by/for BOAT US and Pro Captain Locator as USCG Licensed 100 Ton Master Captain
http://www.boatus.com/procaptains/results.asp?state=CA&region=&boatLen=0&search=true
References: Owners of recent deliveries and sailing industry Pros –
Phone numbers and emails available upon request
Robbie Haines-Disney Pyewacket manager/North Sails
Dusty Way John Terry
Leo Kiely ex CEO Coors Beer Richard Rogg
Rudy Eisler Cito Kirkpatrick
Chuck Kaye Nereus Dastur
Ross Pearlman Bryce Kent
Steve Hathaway-Pres. CYC Gary Matzdorff
Gil Maguire Craig Blasingame
Rob Maguire Gary Gottesman
Bill Peterson-Dennison Yachts John Zagorski Dennison Yachts
Mike Pleasant Robert Gilbert
Bill Kiely Rick Clemenson
Greg Rosencrans Jay Platt
John Zagorski Richard Rogg
Peter Hunt Warren Swope
Dave Sebastian Betsy Ash
Randy Krause Colin Gohering
Christina and Roy Redmon
Mark Monto
Bill Maher

Jeffry Matzdorff
578 Washington Blvd. Ste 347
Marina Del Rey, CA 90292
323.855.0191
earthakat@msn.com

Website:
www.offshoredeliveryskipper.com
BOAT US: August 10th, 2011

Jeffry Matzdorff
578 Washington Blvd. Ste 347
Marina Del Rey, CA 90292
Dear Capt. Matzdorff: Congratulations, the Committee that oversees the BoatU.S. Captains Locator Program has accepted your application for listing. To proceed with having your listing posted with this service, please complete and return the enclosed listing form. If your license is up for renewal within the next six months, please provide your Merchant Mariner Credential reference number so that we can verify your license status and update the expiration on your listing. The BoatU.S. Delivery Captain Directory is featured on our web site at: www.BoatUS.com/procaptains, and in our member services directory, which is provided to each of our 675,000 members throughout the U.S.

Sincerely,
Kristin L. Loyd Supervisor, Special Programs Captain Locator

Copyright © 2020 OffshoreDeliverySkipper.com - All rights reserved.
Site Developed by Latitude805.com