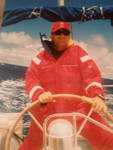 GETTING STARTED
My name is Captain Jeffry Matzdorff, and I have been sailing in Southern California since 1964. My Father was the one that introduced his four kids to sailing with lessons in Marina Del Rey at the old Windjammers Yacht club - I was 10 at the time.  His motivation was to provide a common activity for our family to enjoy together. Guess what... It worked! He bought his first boat, a Cal 25 in 1965 and taught his 4 children to love the beautiful world of sailing.

FIRST BLUE WATER CRUISING EXPERIENCES
After many years enjoying the Cal 25, my Dad bought a Columbia 34 MK II so our growing family could enjoy a bit more room aboard and also sail the Ensenada Race as well as the other local Island races. Of course the more we raced and cruised, the more we wanted a larger boat. That next boat was a Columbia 43, which served our family well and afforded us the possibility of extended cruising and racing with greater range and speed. After 7 years, my father bought his last sailboat, a Cal Cruising 46, ketch rigged.
BAJA CALIFORNIA CRUISING
The Cal 46 enjoyed frequent trips north to the Delta waters above San Francisco and also south to warm Baja and mainland of Mexico. Some of my favorite memories of a very early Cabo San Lucas, well before the inner harbor had been built, and the always anticipated trips north which always led through Turtle Bay. Perhaps my most memorable trip north back to Marina Del Rey involved stopping in Turtle Bay to re fuel. To get fuel in those days, first you called Gordo on Channel 16 and advised how much fuel you needed. Next you had to drop a bow anchor and back down onto the pier where they would throw a monkey fist and a stern line. Once secured, Gordo would use his belly to support the upper part of the drum and hand over hand roll the drum to the end of the pier. On this particular day it was stormy and nerves were tense and all were anxious. Another monkey fist tied to a hose was led to our boat from above and when we finished, our money was put into a pouch, tied to the fuel hose and then hoisted up. By the way, fuel had to be filtered which also slowed the process. In the old days you usually got approximately the amount of fuel you requested +- a gallon or two!!! Waving goodbye to Sr. Gordo and his kids running on the pier with grey skies and 20+kts, was indeed memorable. Today, his sons, Ernesto and Enrique run fuel out to the boats where they will pump you the fuel you need AND they have a reliable counter to ensure proper quantities.
POWER BOAT CRUISING
Currently my father enjoys the comfort of Dulce Vida a DeFever 52 Motor Yacht. I was responsible for overseeing the commissioning and warranty work before we took delivery of the boat. I learned a lot with the commissioning of this boat and my Dad still enjoys moving through the seas at a comfortable 9 knots.
EDUCATION
I attended UC Irvine and was a member of the UCI sailing team from 1972-1974. In 1975 became founding father for the Eta Sigma Chapter of the Sigma Chi Fraternity at UC Irvine and graduated with a degrees in Economics and Computer Science in 1976.

DEGREES AND LICENSES
I am a licensed 100 Ton Master Captain with sailing endorsements.
TWIC - Transportation Workers Identification Card - registered.
CPR and first aid certified for adults and children.
Copyright © 2010-2018 OffshoreDeliverySkipper.com - All rights reserved.
Site Developed by Latitude805.com